(Nov. 4, 1998),
(Oct. 28, 1998),
(Oct. 21, 1998),
(Oct. 14,1998),
(Oct. 7, 1998),
(Sept. 30, 1998)
(Sept. 23, 1998),
(Sept. 16,1998),
(Sept. 9, 1998),
(Sept. 2, 1998),
(Aug. 26, 1998),
(Aug. 19,1998)
Home, Schedule, Latest Article, All Articles, Roster, Team Stats, FEEDBACK
Aug. 19, 1998
FIRST LOOK: Scrimmage With Burnet Here Tomorrow Offers Initial Tryout For This Fall's Edition of Battlin' Billie Football
A first look at Fredericksburg High School's 1998 football program awaits gridiron fans and coaches this Thursday night, Aug.20, when three Billie teams gather at FHS Stadium for scrimmage action against Burnet.
Held in conjunction with the 1998 Fall Sports Kickoff action with Burnet head coach Edwin Abernathy's Class AAA Bulldogs will actually get underway around 5:30 p.m. with a pair of junior varsity and freshman practice games.
Jayvee players from the two schools will work out in FHS Stadium, while the freshman scrimmage is scheduled simultaneously at the adjacent FHS practice fields.
Not long afterward, Billie and Bulldog varsity players will square off starting around 7 p.m. to test just how well their preseason workouts have so far paid off.
"We'll be trying to accomplish a number of things, among them taking a look at what some of our younger players can do," said FHS head coach Jerald Klett who noted that there will be no admission charge to those coming out to FHS Stadium Thursday.
During varsity competition, first-team units from the two teams will each have 15 offensive and 15 defensive snaps before second units go through a 10/10 series. To wrap up the night, first units will then return to the field for a 10/10 series.
"We'll try to run a little bit of everything to check what works and what doesn't," Klett said. "We'll throw the ball some in addition to working on our running game in hopes of narrowing things down to see what we're good at."
Going into Thursday's scrimmage, the Billie varsity is coming off a productive week of practice action.
"We were blessed with cool weather, and it'll be interesting to see what happens when the sun starts shining again," the Billie head coach said of the FHS program's 22 seniors, 25 juniors, 32 sophomores and 48 freshmen.
He explained that the Billies have shown a "real good attitude" as pre-season workouts enter their third week. "We feel like our kids are in pretty good shape, although they're not where we want them to be just yet. Still, they're putting forth a lot of effort."
In the injury department, FHS players have so far escaped major problems.
"We've had the usual bumps and bruises, but nothing serious," said KIett who added that several players may not scrimmage with Burnet on Thursday in order to avoid aggravating minor recoveries.
In so doing, he explained, they should be ready to travel to Lampasas next Friday, Aug.28, for a second and final night of scrimmage action.
After that, the 1998 season officially gets underway on Sept. 4 when the Billie varsity visits Llano for the first of five non-district games.
The home opener will be Sept. 11 against Baridera before three more pre-distrirt contests pit FHS against powerhouses Smithson Valley (there, Sept. 18), Clemens (there, Sept. 25) and Dripping Springs (here, Oct. 2).
Next on the calendar will be the start of the 28-AAAA campaign as the Billies play what forecasters say could be five potential playoff contenders.
First on the list for Fredericksburg will be Boerne (here, Oct 9), followed by Medina Valley (there, Oct. 16), Alamo Heights (here, Oct. 23), Uvalde (here, Oct. 30) and Kerrville (there, Nov 6).
All 10 FHS varsity games will be played on Friday nights startmg at 7:30 pm., while junior varsity and freshmen games will get underway at varying times each Thursday night.
(Click on pictures to enlarge)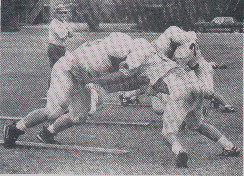 "THAT'S THE WAY!"--Fredencksburg High School assistant coach James Reichenau exhorts Billie varsity players to give it their best in an offensive line drill during Tuesday after-noon's workout at the FHS practice fields. A total of 22 seniors, 25 juniors, 32 sophomores and 48 freshmen are out for the sport this fall for a 10-game regular-season schedule.
-Standard-Radio Post Photo by Terry Collier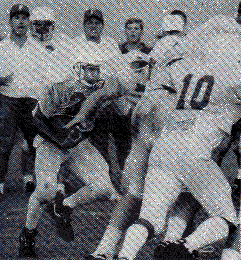 FAST FEET--Billie varsity hopefuls take turns side-stepping sections of poles as part of an agility drill during Tuesday afternoon's workout at the FHS practice fields. Fredericksburg gridmen are now in their third week of pre-season drills in preparation for the regular 1998 schedule that officially opens in Llano on Sept. 4 following a pair of scrimmages with Burnet (here this Thursday, Aug.20) and Lampasas (there, Aug.28).
-Standard-Radio Post Photo by Terry Collier