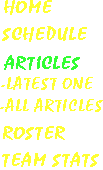 Home, Schedule, Latest Article, All Articles, Roster, Team Stats
Best experienced using

and a 800 x 600 resolution
(If you are using another browser, you will not view this site as it was intended!!!)



The '99 Season Is Here!
NEWS! Sorry to all my devoted fans. It took me a while to get the page back up. I simply haven't had the time to. Everyone that I promised a better and improved site this year: "SORRY, I'm still working on it..." The new site should be ready before the season is over. Right now I simply don't have the time to. You'll have to look at the same old page again for now. If you have any comments E-mail me at patrickd@fbg.net ... Oh yeah, I haven't changed the roster for this year yet but I'll try to.
-PPP (Patrick D.) #64
Go to the schedule section to view the scores and the statistics of the game!!!
(stats available usually on Sat., but the scores are posted right after the game!!!)
This page contains newpaper articles from the Fredericksburg Standard about the FHS Varsity Football Program.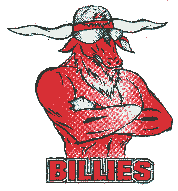 Record so far:
| | |
| --- | --- |
| District: 0-0 | All games: 1-0 |
(All The Information below is from last year!!!)
NAME: Battlin' Billies
COLORS: Red and White
COACHES: (HEAD) Jerald Klett, (ASST'S) Ned Butler, Dean Herbort, Mike Stevens, Wade Prejean, Scott Immel, James Reichenau, Colie Reno, Donald Hohn, Shannon Petsch, (JUNIOR HIGH) Mike Saunders, Terry Crenwelge, Steven Castillo, and Kyle Duren
TRAINER: James Howard
STUDENT TRAINERS: Kira Land and Thomas Pahl
STUDENT MANAGERS: Dominic Rinaldi, Lucas Richardson, Bobby Williams, Krystal Hays, Bobby Harris, and Timon Keller
SUPERINTENDENT: Dr. Marc Williamson
PRINCIPAL: Mary Alice Deike ASSISTANT PRINCIPALS: Kent Reynolds and Peggy Matli
CHEERLEADERS: (CAPTAIN) Brooke Beck, Kendall Rudd, Jennifer Turner, Briana Boyuls, Leigh Henke, Sam Moore, Becky Hernandez, Jessica Burg, Holly Knaupp, C.J. Walker, Courtney McCray, and Liza Smith
BATTLIN' BILLIE MASCOTS: Kirsten Rockwood and Chasity Neutze
CHEERLEADING SPONSOR: Janie Schneider and Callie Kennedy
BAND DIRECTORS: Kenny Ersch, James Bode, and Larry Jones
Winner of the PAT Award ©1996-98

(official FHS page)
Read all the rules and news at the

official page!
If you have any questions or comments, please E-Mail me (PPP)!

ppp