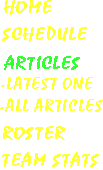 Home, Schedule, Latest Article, All Articles, Roster, Team Stats
Best experienced using
and a 800 x 600 resolution
(If you are using another browser, you will not view this site as it was intended!!!)


Last Friday's Score:
Fredericksburg - 21
Smithson Valley - 34
Pages from the past: 1998
NEWS!
THE SEASON IS OVER!
The Individual Defensive Stats are done and so are the profiles! For now, please disregard the offensive stats on the profiles because they are wrong. And, I'm still working on the articles section.
-PPP (Patrick D.) #64 (11-11-99)
Go to the schedule section to view the scores and the statistics of the game!!!
(stats available usually on Sat., but the scores are posted right after the game!!!)
This page contains newpaper articles from the Fredericksburg Standard about the FHS Varsity Football Program.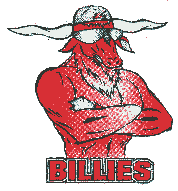 Record so far:
| | |
| --- | --- |
| District: 3-2 | All games: 6-5 |
(All The Information below is from last year!!!)
NAME: Battlin' Billies
COLORS: Red and White
COACHES: (HEAD) Jerald Klett, (ASST'S) Ned Butler, Dean Herbort, Mike Stevens, Wade Prejean, Scott Immel, James Reichenau, Donald Hohn, Shannon Petsch, Mark Edwards, (JUNIOR HIGH) Mike Saunders, Terry Crenwelge, Steven Castillo, and Kyle Duren
TRAINER: James Howard
STUDENT TRAINERS: Richard Cooper, Brandon Bernhard, Eric Dietel, Bobby Harris, Karl Moellering, and Matt Utley
SUPERINTENDENT: Dr. Marc Williamson
PRINCIPAL: Mary Alice Deike ASSISTANT PRINCIPALS: Kent Reynolds and Peggy Matli
CHEERLEADERS: (CAPTAIN) Courtney McCray, Katherine Cox, Leigh Henke, Lynnsey Horton, Shena Hofmann, Colleen Ilseng, Holly Knaupp, Kendall Rudd, Brook Schmidt, Jennifer Turner, Scarlett Waddell, & C.J. Walker
BATTLIN' BILLIE MASCOTS: Stephanie Turner & Trista Stehling
CHEERLEADING SPONSOR: Callie Kennedy
BAND DIRECTORS: (HEAD) Kenny Ersch, (ASST'S) Larry Jones, Marvin Housley, Jennifer Hallford, (STUDENT-TEACHER) Jason Jung
Winner of the PAT Award ©1996-98

(official FHS page)
Read all the rules and news at the

official page!
If you have any questions or comments, please E-Mail me (PPP)!
ppp